You're lucky if you're searching for a method to tone your body. Body shaping procedures come in a variety of forms, and some of them are effective. Here, we'll talk about the top 5 procedures for body-shaping that have been scientifically confirmed to work. Also covered will be their operation as well as what to anticipate from them. As a result, keep reading if you're ready to start getting in shape!
So the question is raised about body shaping what is it? Let us know about Body Shaping.
The term "body shaping" refers to a variety of methods for changing the way the body looks. Tummy tucks, breast augmentation, and liposuction are common body-shaping operations. Body contouring can be done for both therapeutic and aesthetic purposes.
For instance, to regain their pre-pregnancy figure, many women choose breast augmentation after giving birth. When diet and exercise alone are unable to eliminate stubborn fat deposits, liposuction is frequently utilised.
After losing weight, tummy tucks are frequently performed to tighten loose skin and give the body a more toned appearance. Patients may benefit from body shaping to get the body they want and feel more confident.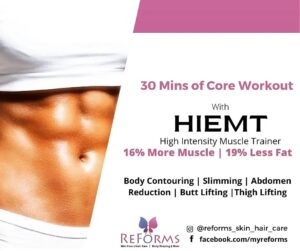 The Top 5 Body Shaping Treatments:
Liposuction:
Liposuction is a surgical operation to eliminate extra fat from specific body parts, and is one of the most often used body-shaping procedures. Targeted liposuction can be performed on parts of the body like the thighs, stomach, or arms. The surgery usually lasts one to two hours and is carried done while the patient is under general anaesthesia.
Ultrasound Cavitation:
Ultrasonic cavitation, a non-invasive alternative to liposuction, uses ultrasound waves to produce bubbles that kill fat cells. There is no downtime and the procedure is painless. To get the desired outcomes, though, usually requires several sessions.
Radiofrequency:
Radiofrequency, which heats tissue to encourage the formation of collagen and shrink fat cells, is frequently used in conjunction with other body-shaping procedures. It is possible to utilise radiofrequency alone or in conjunction with other therapies, such as ultrasonic cavitation.
Mesotherapy:
Mesotherapy is a well-liked body contouring procedure that involves a series of injections containing vitamins, minerals, and other compounds that help eliminate cellulite and enhance skin tone. Mesotherapy can be used alone or in conjunction with other therapies like radiofrequency or cavitational ultrasound.
Laser Lipo:
Low-level lasers are used in the body-shaping procedure known as laser lipo to target and eliminate fat cells. There is no downtime during the painless, non-invasive therapy. To get the desired outcomes, multiple sessions are frequently required.
Conclusion:
If you are looking for a body-shaping treatment that works, consider one of the five treatments we've listed here. Not only are these treatments proven to help reduce fat and contour your body, but they are also safe and relatively affordable. So what are you waiting for? Start slimming down and sculpting your figure today!
Is Body Shaping Safe?
Body shaping by Ireform is customised to meet the needs of each person who chooses it, using a complete approach to sculpting the body to aid in achieving the ideal hourglass form. This non-surgical approach uses cutting-edge equipment and tried-and-true dietary science techniques to provide outcomes. It enables total customisation to match each patient's specific needs for bodily fitness. The wonderful thing about this body shaping is that it is completely safe and harnesses the power of both cutting-edge technologies and tried-and-true, tried-and-true therapies to provide the best results.
For more information please Let us know:
Contact No. +91-9810866966
Author: https://ireform.in
Email– info@ireform.in
Address-311, First Floor, Shopprix Mall Sector 61, Noida – 201303, Gautam Budh Nagar, Uttar Pradesh, India.